(Ajisai Stadium Kita-Kobe)
- Home of The Surpass -
---
Stadium Name
Ajisai Stadium Kita-Kobe

Location
Arino-cho Niroh, Kita-ku, Kobe-shi, Hyogo-ken

Opened
2000

Capacity
3,000
Dimensions
LF325, CF400, RF325

Surface
Infield:Dirt, Outfield:Artificial Turf



Club
Surpass Kobe (2000-2005), Surpass (2006-)

League
Western League



Ticket prices
(Japanese Yen)
1,000 adult

Getting there
Take a Shiei Bus 68 Line from Kobe Dentetsu Mita Line Okaba Station, 10 minuites walk from Bus Stop "Shobugaoka 2 Cho-me".

---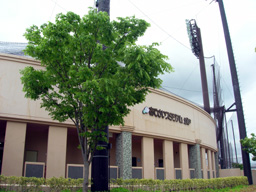 After 10 minutes trip by a local bus from Okaba station, 6 miles north of Kobe downtown, you could find there a newly-developed residential area.

It's so quiet that you may not be sure if there is a ballpark. Walking through the town for several minutes, suddenly a slope to the sports park would appear in front of you, which is established by the City of Kobe and maneged by Kobe local railway company.

The ballpark is nicknamed "Ajisai Stadium Kita-Kobe", because Ajisai, which means hydrangea in Japanese, is the city flower of Kobe.

Ajisai Stadium is a home to the farm team of Orix Buffaloes. The club moved to this municipal stadium when it was opened in 2000.

In 2000 Orix also decided to sell the naming rights for their farm team. Yes, THE NAMING RIGHTS FOR THE CLUB, NOT FOR THE BALLPARK. Anabuki Construction Company purchased it and had sponsored for three years. "Surpass" is the brand name of their Condominium product.

It is stupid that the club name stays same even after Abnabuki cancelled their sponsorship in 2003.







2 riceballs
---
---
All Photos Copyright (C) 1998-2007 Takeshi Kubota. All rights reserved.