(Osaka Dome)
- Home of The Buffaloes -
---
Stadium Dome
Kyocera Dome Osaka

Location
3-Naka 2-1, Chiyozaki, Nishi-ku, Osaka-shi, Osaka

Opened
February 20, 1997

Capacity
48,000

Dimensions
LF328, LC384, CF400, RC384, RF328

Surface
Artificial Turf

Name Changes
Osaka Dome (1997-2005), Kyocera Dome Osaka (2006- )



Club
Orix Buffaloes

League
Pacific League



Ticket prices
(Japanese Yen)
Backstop reserved 6,300; Live reserved 5,800; S reserved 5,300; Buffaloes seat / Visitor's seat 4,500; A seat 3,800; B seat 3,200; Value seat 2,700 adults, 1,600 children; Infield general admission 2,400 adults, 1,000 children; Outfield general admission 1,700 adults, 700 children

Getting there
7 minutes walk from JR Taisho Station; 2 minutes walk from Osaka Dome Mae-Chiyozaki Subway Station.

---


Takoyaki is one of the most popular light food, espesially in Osaka area. So you can find a Takoyaki stand at every street corner in Osaka, the second largest city in Japan.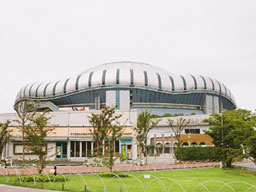 Takoyaki, octopus balls, include a piece of boiled octopus in each of them. Size of a octpus ball is not like a baseball. It's a little smaller than a golf ball.

The feature of the stadium is the roof. It's not retractable, but movable. "The Super-Ring", a name of this roof, can go up and down for sound effects of all kinds of concerts, not for baseball games.

You may feel a little brighter than any other domed stadium, probably because of its lightblue fences.

The exterior is so curious. Some say it's like a octopus itself or a Takoyaki ball with shaved fish. Nobody knows exactly why this stadium is nicknamed "Takoyaki Dome".

Anyway, try Takoyaki with putting Worcetershire sauce or mayonnais on some dried shaved bonito at Osaka Dome, it's very delicious!




The Buffaloes are the only professional baseball club that have not won Japan Series.

It was 1989, when they almost swept the Series. After the first three straight win, the winning pitcher "Big Mouth" Kato said that the Yomiuri Giants, the CL Champions that year, were worse than Lotte that finished last in PL. Kato's comment made the Giants angry, and finally Kintetsu had lost four games cosecutively.

Although Ex-manager of the Indians Charlie Manuel won HR titles in '79 and '80, and former Major Leager Tuffy Rhodes tied the Japan Season HR record "55" in 2001, Sadaharu Oh made in '64, the Baffaloes had lost all those Japan Series.


Franchise Established
November 22, 1949, dissolved and merged into Orix Buffaloes in 2005

Club Changes
Kintetsu Pearls (1950-1958), Kintetsu Buffalo (1959-1961), Kintetsu Buffaloes (1962-1998), Osaka Kintetsu Buffaloes (1999-2004)

League Titles
'79, '80, '89, '01
(They have not won Japan Series Chamions yet)
Parent Company
Kinki Nippon Railway


1 riceball
---
---
All Photos Copyright (C) 1998-2007 Takeshi Kubota. All rights reserved.