(Osaka Dome)
- Home of The Buffaloes -
---
Stadium Dome
Kyocera Dome Osaka

Location
3-Naka 2-1, Chiyozaki, Nishi-ku, Osaka-shi, Osaka

Opened
February 20, 1997

Capacity
48,000

Dimensions
LF328, LC384, CF400, RC384, RF328

Surface
Artificial Turf

Name Changes
Osaka Dome (1997-2005), Kyocera Dome Osaka (2006- )



Club
Orix Buffaloes

League
Pacific League



Ticket prices
(Japanese Yen)
Backstop reserved 6,300; Live reserved 5,800; S reserved 5,300; Buffaloes seat / Visitor's seat 4,500; A seat 3,800; B seat 3,200; Value seat 2,700 adults, 1,600 children; Infield general admission 2,400 adults, 1,000 children; Outfield general admission 1,700 adults, 700 children

Getting there
7 minutes walk from JR Taisho Station; 2 minutes walk from Osaka Dome Mae-Chiyozaki Subway Station.

---

from the 1st base side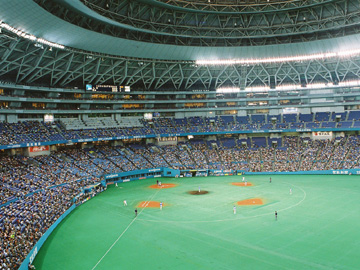 from the right grandstand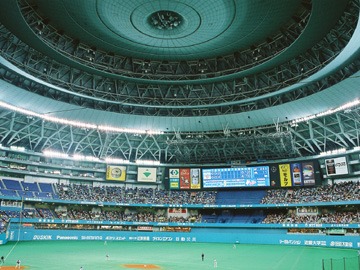 the roof and the scoreboard



---
---
All Photos Copyright (C) 1998-2007 Takeshi Kubota. All rights reserved.