(Kobe Sports Park Stadium)
- Home of The Buffaloes -
---
| | |
| --- | --- |
| Stadium Name | Kobe Sogo Undo Koen Yakyujo |
| Location | Kobe Sogo Undo Koen, Midoridai, Suma-ku, Kobe-shi, Hyogo |
| Opened | March 6, 1988 |
| Capacity | 35,000 |
| Dimensions | LF:325ft (99.1m), LC:384ft (117m), CF:400ft (122m), RC:384ft (117m), RF:325ft (99.1m) |
| Surface | Grass |
| Name Changes | Green Stadium Kobe (1988-2003), Yahoo! BB Stadium (2003-2004), Kobe Stadium (2004-2005), Skymark Stadium (2005-2011), Hotto Motto Field Kobe (2011-) |
| | |
| Club | Orix Buffaloes |
| League | Pacific League |
| | |
| Getting there | 1 minuite walk from Sogo Undo Koen Subway Station. |
---


Kobe Stadium is the first ballpark in Japan, which sold its naming rights in 2003. The original nickname of the stadium is "Green Stadium Kobe". Actually it stands in the center of Sogo Undo Koen, Sports Complex Park, surrounded by a lot of greenery.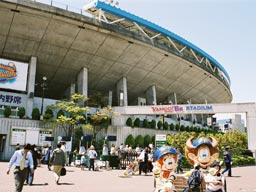 Since the Hankyu Braves was puchased by Orix Corporation in 1989 and move to Kobe from Osaka, they have been trying to make this stadium with an atmosphere similar to MLB ballparks.

For example, a stadium DJ is male, otherwise all the other major ballparks in Japan hire female announcer. But, to tell the truth, I feel a little qurious hearing the players' name called in English. Here is Japan, isn't it?

Infield was covered by natural turf in 2000. In 2003 they installed "Field Seats" near the first and the third base, which has neither fence nor net and so close to the playing field that you may have many chances to get faul balls.

There are various consession stands along the consource. Taste and flavor of hot dogs are as almost same as those of ballparks in US.

Despite recent frequent small attendance, Kobe Sports Park Stadium is one of the best ballpark in Japan.




Orix BlueWave outfielder Ichiro Suzuki was seven-time consecutive batting champion in Pacific League, 1994-2000. As you know, he flew to northern west coast of US, Seattle, the next year and won 2001 rookie of the year and MVP in AL.

Yutaka Fukumoto, who has not flew to US, was also world class level outfielder. He won 13 consecutive titles in steals, 1970-1982, and was lifetime world recordholder until Ricky Henderson stole 1,066th in 1993.

Another outfielder Masafumi Yamamori was less famous, however "Yamamori's Catch" was inducted to the Hall of Fame. In a game in 1981 he quickly climbed up to the top of left field fence, and catch the homerun ball. The photo of this tremendous play is displayed at Cooperstown.

1994-1995 off-season, a gigantic earthquake attacked Kobe area, in which 6,432 people were killed. After this tragic disaster, BlueWave played with the "Ganbaro! Kobe" patch, which means "Hang in there! Kobe" in English, on their shoulders. Then they won 1995 PL pennant and 1996 Japan Series.


Franchise Established
January 23, 1936

Club Changes
Hankyu (1936-1946), Hankyu Braves (1947-1988), Orix Braves (1989-1990), Orix BlueWave (1991-2004), Orix Buffaloes (2005- )

League Titles
'67, '68, '69, '71, '72, '76, '77, '78, '84, '95, '96
(Years in bald indicate Japan Series Champions)

Parent Company
Orix (Financial Services)





4 riceballs
---
---
All Photos Copyright (C) 1998-2019 Takeshi Kubota. All rights reserved.