(Yokohama Stadium)
- Home of The BayStars -
---
| | |
| --- | --- |
| Stadium Name | Yokohama Stadium |
| Location | Yokohama Park, Naka-ku, Yokohama, Kanagawa |
| Opened | April 1, 1978 |
| Capacity | 30,000 |
| Dimensions | LF:308ft (94m), CF:387ft (118m), RF:308ft (94m) |
| Surface | Artificial Turf |
| | |
| Club | Yokohama DeNA BayStars |
| League | Central League |
| | |
| Getting there | 2 minuites walk from JR or Subway Kannai Station, 3 minutes walk from Minatomirai Line Nihon-odori Station. |
---


Right after the end of the Pacific War, late in the summer of 1945, Japan went under occupation of the Allied Powers. GHQ put the Yokohama Park Stadium in requisition and renamed it to "Lou Gehrig Stadium" in memory of 1934 MLB All-Stars' visit to this stadium.

During 1934 November tour, MLB All-Stars played 17 games versus Japanese baseball team. They completely beat Japan at Jingu, Yokohama, Koshien and the other ballparks. Babe Ruth blasted 12, Lou Gehrig hit 8 homers, finally they won whole 17 games.

At the bleachers of Yokohama Stadium, you can find a memorial relief plaques of Babe Ruth beside the left foul pole and Lou Gehrig at the right stand.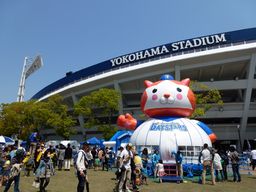 Also in some other respects, Yokohama Park has a deep involvement in the history of baseball in Japan. In 1896 Yokohama Athletic Club, which was formed by foreign residents in Yokohama, and Daiichi High School played the first international baseball game here. The first night game in Japan, Giants vs Dragons, was also played at Gehrig Stadium in 1948.

But Yokohama had never had its own pro baseball club until Yokohama Stadium was built at Yokohama Park in 1978. The stadium, often abbreviated as "Hama-suta", is the first multi purpose stadium with movable seats, and second artificial turf stadium in Japan. "Y" shaped lighting towers are eye-catching features of this stadium.

Nowadays some of those features became so obsolete that , in 2001, they intended to build Yokohama Dome and move the BayStars there. However, who wants any more domed stadium in Japan, I wonder?

The plan met with some strong opposition from baseball fans, so finally they were forced to give up the idea. Instead, some minor renovations have taken place. Field turf was replaced, new wider seats behind backstop were installed and overhead netting was removed at infield box, which could provide fans more exciting atmosphere.




My father took me out to the ballgame, I can't clearly remember when, maybe in 1967 or 1968. On that day, at Kawasaki Stadium, the dumb Yomiuri Giants beat the Taiyo Whales with 4-1 score, nevertheless my first ballpark experience was lots of fun for me.

In 1978, the Whales moved 5 miles west to Yokohama when new Yokohama Stadium was built. Aferwards Kawasaki Stadium was closed in 2000.

Kazuhiro Sasaki, the Mariners' closer and 2000 AL Rookie of the Year, played with the BayStars for ten years. In 1998 Sasaki was named MVP and he took the BayStars to the first Japan Series Championship since 1960.


Franchise Established
November 22, 1949

Club Changes
Taiyo Whales (1950-1952), Taiyo Shochiku Robins (1953-1954), Taiyo Whales (1955-1977), Yokohama Taiyo Whales (1978-1992), Yokohama BayStars (1993-2011), Yokohama DeNA BayStars (2012- )

League Titles
'60, '98
(Years in bald indicate Japan Series Champions)

Team Song
"Atsuki Hoshitachi-yo" (Exciting Stars)

Parent Company
DeNA (Internet Games)



2 riceballs
---
---
All Photos Copyright (C) 1998-2019 Takeshi Kubota. All rights reserved.