(Nagoya Stadium)
- Home of The Dragons -
---
| | |
| --- | --- |
| Stadium Name | Nagoya Kyujo |
| Name Changes | Chunichi Stadium (1948-1975), Nagoya Kyujo (1976- ) |
| Location | 2-12-1 Tsuyuhashi, Nakagawa-ku, Nagoya-shi, Aichi |
| Opened | December 2, 1948 |
| Capacity | 8,257 |
| Dimensions | LF328, CF400, RF328 |
| Surface | Infield:Dirt, Outfield:Grass |
| | |
| Club | Chunichi Dragons |
| League | Western League |
| | |
| Getting there | 7 minuites walk from JR Otohbashi Station |
---


Nagoya Stadium, originally called Chunichi Stadium, was opened in 1948, as the home to the Chunichi Dragons of Central League.

On August 19, 1951, in the bottom of third inning of the game Dragons vs Giants, the fire broke out in upper reserved area behind the backstop. Finally, almost one hour and a half later, all-wooden stadium was burned down. It was one of the most lamentable tragedy in Japan's baseball history, in which four people were killed and more than 300 were injured.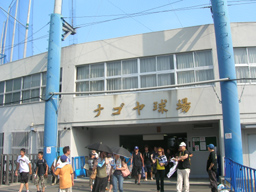 After three months long reconstruction, the stadium was rebuiled of reinforced concrete. They have made some renovation since then.

When the Dragons moved to Nagoya Dome in 1997, the old home became a new home of their farm team, Chunichi Dragins of Western League. They removed lighting towers and the left field grand stand. Instead, indoor training field and other facilities were built.

The view of the stadium from the Superexpress Shinkansen Train is a fond memory for Japan's baseball fans, especially for the 1973 Tokyo Yomiuri Giants.

On October 20, 1973, the Dragons faced the Hanshin Tigers at Chunichi Stadium. Hanshin was just one game away from the pennant. During the game, the Shinkansen train was passing by behind the left field of the stadium, in which the Yomiuri Giants were riding. They tried to see the scoreboard from the train, but couldn't. When the Superexpress arrived at Osaka station, they got the news that the Tigers was beaten by the Dragons, which meant the chance to win the pennant was still left for the Giants. The next day, the Giants defeat the Tigers and won the nine consecutive Central League Championships.






1 riceball
---
---
All Photos Copyright (C) 1998-2020 Takeshi Kubota. All rights reserved.