(Gannosu Stadium)
- Home of The Hawks -
---
Stadium Name
Gannosu Kyujo

Location
Gannosu Recreation Center, Oh-Aza Nata-Chinai, Higashi-ku, Fukuoka-shi, Fukuoka

Opened
April 1, 1989

Capacity
3,470

Dimensions
LF321, CF400, RC361, RF328

Surface
Infield:Dirt, Outfield:Grass



Club
Fukuoka SoftBank Hawks

League
Western League



Ticket prices
(Japanese Yen)
Free

Getting there
7 minuites walk from JR Gannosu Station

---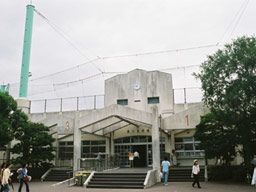 Gannosu is located several miles northwest away from the City of Fukuoka. There is Gannosu Recreation Park, which consists of some sports grounds, a cycling road, a jogging road and some baseball fields.

What is Gan-no-su?

"Gan" is a wild goose and "su" is a nest in Japanese. That is, the name of a place "Gannosu" is connected with the migratory bird, which fly to this area every winter.

At Gannosu Stadium you can see some prospective geese during baseball season. Several years later, in early spring some of them fly across Hakata Bay to Fukuoka, transforming themselves into young Hawks, so that they play first-class baseball at the Dome.






1 riceball
---
---
All Photos Copyright (C) 1998-2007 Takeshi Kubota. All rights reserved.