(Seibu Dome)
- Home of The Lions -
---
| | |
| --- | --- |
| Stadium Name | Seibu Dome |
| Sponsoed Name | Invoice Seibu Dome (2005-2006), Goodwill Dome (2007), Seibu Prince Dome (2015-2016), MetLife Dome (2017-) |
| Location | 2135 Kami-Yamaguchi, Tokorozawa-shi, Saitama |
| Opened | March 31, 1979 ; Dome Coverd 1999 |
| Capacity | 35,879 |
| Dimensions | LF328, LC380, CF400, RC380, RF328 |
| Surface | Artificial Turf |
| | |
| Club | Saitama Seibu Lions |
| League | Pacific League |
| | |
| Getting there | 1 minuites walk from Seibu Railways Seibu Kyujo-mae Station. |
---


In July, 1978, Seibu group, one of the gigantic conglomerate in Japan, announced that they would build a new baseball stadium in the suburb of Tokyo, then they started scooping Sayama hillock.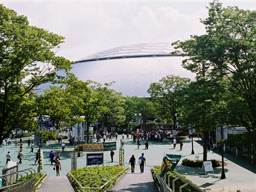 After the season was over, Seibu purchased Crown Lighter Lions franchised in Kyushu, southwest part of Japan, and moved them to Tokorozawa, Saitama. In the spring of 1979 the brand-new stadium was named Seibu Lions Stadium.

Despite the Astroturf, soon this ballpark became my favorite. It was located near Tama Lake and surrounded by a lot of greenery. We could feel natural breeze under the sky ,sitting in grass area beyond the outfield wall, also enjoying well-known Sayama green tea and fireworks, which was used to be set off when a Lion swat a homer.

But after almost two decades of ballpark time, Seibu decided to make it coverd. They said it was because of frequent rainy day and dense mist...

Construction was progressed over two-phase schedule during off-seasons. After the 1997 season they had raised V-shaped pillars and a stainless steel roof over the seats. During the next season-off they built another big roof made by grass fiber on the field, pulled it up to the top. Finally the stadium was renamed to Seibu Dome.

Once you get into the dome, you might feel curious that the dome has no wall. So you can often feel natural wind, still you could find you are losing sunshine. It's stupid enough to see fireworks on the video screen.




The first glorious days for the Lions was 1950's. They won three Japan Series Chamionships including legendary 1958 series.

In that series the Lions lost first three games in a row. After an unexpected day off because of rain Nishitetsu ace pitcher Kazuhisa Inao hushed the Giants, he won four consecutive games. After all Inao pitched 47 innings in 1958 Japan Series.

Time was tough for the Lions in 1960's, especially in 1969 they were shocked by so-called "Black Mist Scandal". It was a Japanese version of Black Sox Scandal... They had been hovereing around lower level until they settled in Saitama.

The inaugurated season of Seibu Lions Stadium, which didn't have a roof at that time, started with an embarassing twelve losing streak, then the Lions finished in the tailend of Pacific League.

However a few years later they established "the Lions Dynasty". Seibu Lions is surely the best baseball team in 1980's and early 1990's.


Franchise Established
November 26, 1949

Club Changes
Nishitetsu Clippers (1950), Nishitetsu Lions (1951-1972), Taiheiyo Club Lions (1973-1976), Crown Lighter Lions (1977-1978), Seibu Lions (1979-2007), Saitama Seibu Lions (2008-)

League Titles
'54, '56, '57, '58, '63, '82, '83, '85, '86, '87, '88, '90, '91, '92, '93, '94, '97, '98, '01, '02, '04, '08, '18
(Years in bald indicate Japan Series Champions)

Team Song
"Hoero Lions" (Roar ! The Lions)

Parent Company
Seibu Railways


1 riceball
---
---
All Photos Copyright (C) 1998-2019 Takeshi Kubota. All rights reserved.