(Sapporo Dome)
- Home of The Fighters -
---
| | |
| --- | --- |
| Stadium Name | Spporo Dome |
| Location | 1 Hitsujigaoka, Toyohira-Ku, Spporo-Shi, Hokkaido |
| Opened | June 2, 2001 |
| Capacity | 41,823 |
| Dimensions | LF:328ft (100m), CF:400ft (122m), RF:328ft (100m) |
| Surface | Artificial Turf |
| | |
| Club | Hokkaido Nippon-Ham Fighters |
| League | Pacific League |
| | |
| Getting there | 10 minuites walk from Fukuzumi Subway Station. |
---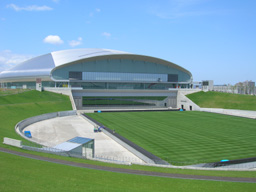 Hokkaido Nippon-Ham Fighters of Pacific League share Sapporo Dome with J-League Consadore Sapporo. That is to say, this all-weather supersized dome is only stadium in Japan, which is home to both professional baseball and soccer club.

They usually have a baseball field inside, while the gigantic soccer stage is set outside to take care of natural lawn. When necessary, the mode is changed for soccer use.

After artificial turf is wound off, the hovering soccer stage slowly moves into the closed arena. It takes approximate 5 hours for switchover from baseball to soccer mode.

This state-of-the-art facility stands on Hitsujigaoka Hill, which means "A Hill of Sheep" in Japanese. The lookout point of Hitsujigaoka Hill provides a sprawling view with a crowd of sheep grazing grass leisurely on wide meadows backed by Sapporo town area and Sapporo Dome.




As the first professional baseball club franchised in Hokkaido prefecture, the Fighters were enthusiastically welcomed by a large number of baseball fans in the northernmost island of Japan.

The average attendance through 2004, the first season in Sapporo, was 24,900, an increase of 32% over the record 18,843 in 2003, their last season at Tokyo Dome.

So, for them, next thing to do could be to make themselves competitive to join Pacific League pennant race in every September.

Can Tray Hillman make it? In 2003, he was invited to manage the Fighters from Clumbus Clippers (AAA) in Yankees organization, looking for a Championship since a quarter of a century ago.

The answer for the question above... Yes, he did it! In 2006 the Fighters finished top in Pacific League and also won 2006 Japan and Asia Series.


Franchise Established
November 6, 1945

Club Changes
Senators (1946), Tokyu Flyers (1947), Kyuei Flyers (1948), Tokyu Flyers (1949-1953), Toei Flyers (1954-1972), Nittaku Home Flyers (1973), Nippon-Ham Fighters (1974-2003), Hokkaido Nippon-Ham Fighters (2004- )

League Titles

'62, '81, '06, '07, '09, '12, '16
(Years in bald indecate Japan Series Champions)

Team Song
"Fighters Sanka" (Fighters Song of praise), "Go! Go! Fighters"

Parent Company
Nippon Meat Packers (Meat Products)



2 riceballs
---
---
All Photos Copyright (C) 1998-2019 Takeshi Kubota. All rights reserved.