(Fukuoka Dome)
- Home of The Hawks -
---
| | |
| --- | --- |
| Stadium Name | Fukuoka Dome |
| Sponsored Name | Fukuoka Yahoo! Japan Dome (2005-2012), Fuokuoka Yahuoku! Dome (2013-) |
| Location | 2-2-2 Jigyohama, Chuo-ku, Fukuoka-shi, Fukuoka |
| Opened | March 31, 1993 |
| Capacity | 40,178 |
| Dimensions | LF:328ft (100m), CF:400ft (122m), RF:328ft (100m) |
| Surface | Artificial Turf |
| | |
| Club | Fukuoka SoftBank Hawks |
| League | Pacific League |
| | |
| Getting there | 10 minuites walk from Tojinmachi Subway Station; 20 minuites shuttle bus ride from JR Hakata Station or Tenjin area |
---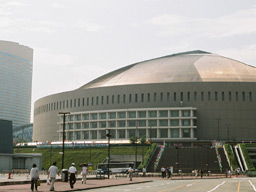 Along Hakata Bay of Fukuoka, the largest city of southwest Japan, there is a waterfront district called "Hawks Town", which consists of Fukuoka Dome and 36-story hotel "Seahawk & resort" with various amusement facilities.

Fukuoka Dome was completed in 1993 as the first phase of "the Fukuoka Twin Dome Project", which is a plan Daiei Real Estate company deliverd in 1988. But yet another dome would never be built because of the collapse of Japan's extraordinary boom of the 80's.

The biggest feature of Fukuoka Dome is its retractable roof. Two of the panels of the roof slide around under the third fixed panel. Opening and closing operations take just 20 minutes.

However, at this all-weather stadium, you might not have a chance to see a baseball game under the blue sky. The 12,000 tons roof opens only after the Hawks win as a game winning performance.




After the Lions left Fukuoka in 1979, during ten years absence of professional baseball team, Fukuoka people was longing for their own club. Finally in 1989 Supermarket chain Daiei purchased ailing Nankai Hawks franchised in Osaka and moved them to Fukuoka, but they needed another ten years to win the pennant in 1999.

Fukuoka's enthusiatic baseball fan filled the dome to see every Daiei game, so they have kept the attendance record over 300 million since 2001, which is the best in Pacific League.

In 2004 season Nobuhiko Matsunaka, Hawks firstbaseman, won the triple crown and the Fukuoka Daiei finished top of PL. However they couldn't attend the Japan Series, because their long-time rival Lions defeated Hawks in the playoff. PL started new playoff system this season.

After this season Daiei was forced to pull out of the baseball business because of its financial difficulties. SoftBank Corp. bought the Hawks and their promotional rights for a combined 20 billion yen.


Franchise Established
March 1, 1938

Club Changes
Nankai (1938-1943), Kinki Nihon (1944), Great Ring (1946), Nankai Hawks (1947-1988), Fukuoka Daiei Hawks (1989-2004), Fukuoka SoftBank Hawks (2005- )

League Titles

'51, '52, '53, '55, '59, '61, '64, '65, '66, '73, '99, '00, '03, '10, '11, '14, '15, '17, '18
(Years in bald indecate Japan Series Champions)

Team Song
"Iza Yuke Wakataka-Gundan" (Go! Young Hawks)

Parent Company
SoftBank (Internet Service Provider)


1 riceball
---
---
All Photos Copyright (C) 1998-2019 Takeshi Kubota. All rights reserved.