(Chiba Marine Stadium)
- Home of The Marines -
---
| | |
| --- | --- |
| Stadium Name | Chiba Marine Stadium |
| Sponsored Name | QVC Marine Field (2011-2016), ZOZO Marine Stadium (2017-) |
| Location | 1 Mihama, Mihama-ku, Chiba-shi, Chiba |
| Opened | March, 1990 |
| Capacity | 30,086 |
| Dimensions | LF:326ft (99.5m), CF:400ft (122m), RF:326ft (99.5m) |
| Surface | Artificial Turf |
| | |
| Club | Chiba Lotte Marines |
| League | Pacific League |
| | |
| Getting there | 10 minuites walk from JR Kaihin Makuhari Station; You can also take a free shuttle bus at the JR station. |
---


Makuhari New City is one of the largest urban development projects in Japan, located halfway between central Tokyo and New Tokyo International Airport (Narita Airport). There are huge convention center Makuhari Messe, new high-tech buildings, luxury class hotels, a vast greenery park and a baseballpark.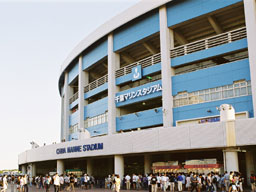 The stadium is located along Makuhari Beach, however there are a few seats where you can overlook the sea. If it's quite a fine day, go to the top of the infield upperdeck, then you can see Tokyo Bay above the scoreboard.

Marines Fan is so unique. Right field bleachers, where tickets are almost sold out every Marines game, looks like a slope of snowy mountain because they wear same white jersy. They keep chanting all through the game.

Like 3Com Park in San Fransisco, players sometimes get into trouble by nasty and gusty wind.

So they started planning to make the stadium domed. On the other hand, City of Chiba is thinking about another plan, chaging the surface into natural grass. But the city officials say the project will work only when the Marines win pennant.




A former Major Leaguer Leron Lee has a lifetime BA record .320 in Japan. He played 1977-1987 for Lotte, and won the battiing title in 1980. The same year his younger brother Leon finished second in BA next to Leron. Leon played 1978-1987 for Lotte, Taiyo and Yakult.

Another great slugger in Lotte history is infielder Hiromitsu Ochiai. He is the only player in Japan, who won the triple crown for three times, in 1982, 1985 and 1986.

Despite having those incredible players, the Marines has been far from the pennant for almost three decades. It's long enough for fans to give their team up. They needed a change, so they became the first baseball club that invited a foreign manager from MLB.

Bobby Valentine managed the Marines in 1995. At the same time Julio Franco and Pete Incavilia joined the club. Chiba Lotte finished second in PL that season, which was the highest rank since 1975. However, Valentine was fired after the season because he could not fit the Japanese style of practicing hard even in the midst of the season. Yet he is still popular in Japan, especially among the Marines fan.

And yes, welcome back to Japan, Bobby! Thanks to him for taking the Marines to 2005 Japan Series and the first Asia Series Champions.


Franchise Established
September 21, 1949

Club Changes
Mainichi Orions (1950-1957), Mainichi Daiei Orions (1958-1963), Tokyo Orions (1964-1968), Lotte Orions (1969-1991), Chiba Lotte Marines (1992- )

League Titles
'50, '60, '70, '74, '05, '10
(Years in bald indicate Japan Series Champions)

Team Song
"We Love Marines&quot

Parent Company
Lotte (Confectionary)



2 riceballs
---
---
All Photos Copyright (C) 1998-2019 Takeshi Kubota. All rights reserved.