(Yamato Stadium)
---
| | |
| --- | --- |
| Stadium Name | Yamato Stadium |
| Location | 4-5000 Yanagibashi, Yamato-shi, Kanagawa |
| Opened | July, 1980 |
| Capacity | 11,000 |
| Dimensions | LF:315ft (95m), CF:394ft (120m), RF:315ft (95m) |
| Surface | Artificial Turf |
| Name Changes | Yamato Hikichidai Kyujo (1980-2013), Yamato Stadium (2014-) |
| | |
| Getting there | 20 minutes walk from Yamato Station of Odakyu Enoshima Line or Sotetsu Line; Take a Community Bus "Nanbu Route" from Yamato Station, 2 minuites walk from Bus Stop "Hikichidai". |
---


Taro Yamada was a catcher of Meikun High School baseball team and led the team to win the national tournament. No, it's not a true story. Taro is a fictional character in a Yakyu Manga, a really popular baseball cartoon "Dokaben" of the 1970's, which was later made into an animated TV series.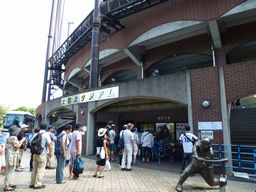 In front of the entrance gate of Yamato Stadium, there are the statues of Taro "Dokaben" Yamada swinging a bat and Satoshi Satonaka, another main character of the cartoon, a pitcher of Meikun High School.

Yamato Stadium is a main facility of Yamato Hikichidai Park, along with the multipurpose field, the playing ground, the picnic area, the swimming pool and so on.

The biggest disadvantage of Yamato Hikichidai Park is that its neighborhood is Naval Air Facility Atsugi, the largest US Navy Base in the Pacific Ocean. The residents have been forced to receive serious noise damages for a long time. So it is also terribly crazy to play baseball in this area.

The stadium is nicknamed "Dokaben Stadium". It is mainly used for High School Baseball Tournament and the other amateur baseball games. Yokohama BayStars of Western League also host a few official games here per season.







2 riceballs
---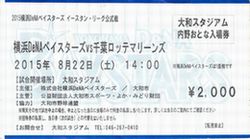 ---
---
All Photos Copyright (C) 1998-2020 Takeshi Kubota. All rights reserved.