(Utsunomiya Kiyohara Stadium)
---
| | |
| --- | --- |
| Stadium Name | Utsunomiya Kiyohara Kyujo |
| Location | 14 Kiyohara Kogyo Danchi, Utsunomiya-shi, Tochigi |
| Opened | 1988 |
| Capacity | 30,000 |
| Dimensions | LF:320ft (97.6m), CF:400ft (122m), RF:320ft (97.6m) |
| Surface | Artificial Turf |
| | |
| Getting there | 30 minuites by JR Kanto or Toya Bus from JR Utsunomiya Station. |
---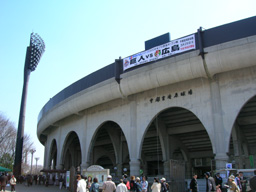 Utsunomiya Kiyohara Stadium stands at the center of Kiyohara Industrial Park, which is located 5 miles east of Utsunomiya, the capital city of Tochigi Prefecture.

It is inconvinient to get there by public transportation. It usually takes about 30 minutes by local bus system from Utsunomiya Train Station.

After the game, they would serve some shuttle buses in front of the stadium. But, thanks to frequent traffic jam, you might be packed in the cramed car for almost an hour.

The exterior of Roman Colosseum-like stadium is really majestic. 30,000 capacity is enough for official NPB match, however they rarely have professional games. Only a few spring training games have been held here in recent years.

Utsunomiya City is also well known for popular Chinese dumpling, gyoza. There are over 200 gyoza restaurants in downtown area. So, try gyoza after the game !!









2 riceballs
---
---
All Photos Copyright (C) 1998-2020 Takeshi Kubota. All rights reserved.