(Tsuruoka Dream Stadium)
---
| | |
| --- | --- |
| Stadium Name | Tauruoka-shi Komagihara Yakyujo, AKA Tsuruoka Dream Stadium |
| Location | 2-1 Komagihara-machi, Tsuruoka-shi, Yamagata |
| Opened | June 6, 1996 |
| Capacity | 12,000 |
| Dimensions | LF:320ft (97.6m), CF:400ft (122m), RF:320ft (97.6m) |
| Surface | Grass |
| | |
| Getting there | 15 minuites to "Inaoi 2-chome" by Shonai Kotsu Bus from JR Tsuruoka Station. |
---


It's such a shame that, in Japan, most conventional baseball park surfaces are the combination of the dirt infield and the grass outfield, except for some domed stadium with the Astroturf.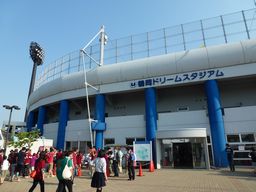 However, we have Dream Stadium today!

Built in 1996, Tsuruoka Dream Stadium is the first ballpark which has an entire natural grass field since the surface of Korakuen Stadium was replaced by artificial turf in 1976. Later in 1988, Korakuen was torn down to construct Tokyo Dome.

Dream Stadium is mainly used for amateur baseball. Cuban national baseball team trained here for the Sydney 2000 Summer Olympics.

Eastern League of NPB usually hosts only one official game almost every season.

Tsuruoka Baseball Association is planning that Komagihara Sports Park should be developed as "Tsuruoka Baseball Park", which consists of four ballparks including Tsuruoka Dream Stadium.


I have a dream today!

I have a dream that one day every YAKYUJO shall be build with the entire field covered with green grass and every domed stadium shall be demolished, the baseball guys will play on natural turf ground, and the stadiums will be great places to drink cups of beer under the blue sky.









4 riceballs
---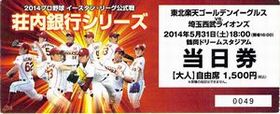 ---
---
All Photos Copyright (C) 1998-2020 Takeshi Kubota. All rights reserved.