(Toyohashi Civic Stadium)
---
| | |
| --- | --- |
| Stadium Name | Toyohashi Shimin Kyujo |
| Location | 1-2 Iwata-cho, Toyohashi-shi, Aichi |
| Opened | 1980 |
| Capacity | 15,897 (Infield Stand:8,395, OUtfield Seat:7,500) |
| Dimensions | LF:305ft (93m), CF:377ft (115m), RF:305ft (93m) |
| Surface | Infield:Dirt, Outfield:Grass |
| | |
| Getting there | 3 minutes walk from Toyohashi City Tram "Undo-Koen-Mae". |
---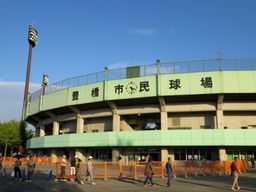 City of Toyohashi is situated 50 miles southeast of Nagoya City, Aichi Prefecture, which is a franchise city for the Chunichi Dragons of Central League.

Toyohashi Civic Stadium, located in Iwata Sports Park, hosts an annual Chunichi Dragons official game and spring training games. A few official game of Western League for the farm team of the Dragons also played at the Civic Stadium.

In the city, it is a little complicated that there is another Municipal Stadium in Toyohashi Park, which is just called "Toyohashi Kyujo (Toyohashi Stadium)". Built in 1948 and so obsolete, the old Toyohashi Stadium is never used for professional baseball.

Toyohashi Civic Stadium is also open to the public and usually used for amateur baseball, such as high school baseball tournament.








3 riceballs
---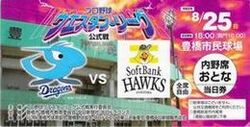 ---
---
All Photos Copyright (C) 1998-2020 Takeshi Kubota. All rights reserved.