(Takasaki Jonan Stadium)
---
| | |
| --- | --- |
| Stadium Name | Takasaki-shi Jonan Yakyujo |
| Location | 2-12 Shimowada, Takasaki-shi, Gunma |
| Opened | November, 1936 |
| Capacity | 12,000 |
| Dimensions | LF:312ft (95m), CF:394ft (120m), RF:312ft (95m) |
| Surface | Infield:Dirt, Outfield:Grass |
| | |
| Getting there | 15 minuites walk from JR Takasaki Station, 5 minutes walk from Joshin Dentetsu Railway Minami-Takasaki Station. |
---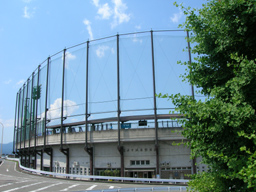 On October 13, 2008, at Takasaki Jonan Stadium, a crowd of 10,000 people attended the game of Japan Woman's Softball League, Renesas Takasaki vs Taiyo Yuden.

They were enthusiastically cheering for Yukiko Ueno, the ace pitcher of Japan National Team and other players, who won the gold medal by beating the US team in 2008 Beijin Olympic.

Both Renesas Takasaki and Taiyo Yuden host their home games at this stadium, the oldest ballpark in Gunma Prefecture.

Saitama Seibu Lions of Eastern League host an official game in early summer as a part of annual Takasaki-Honjo two game series. This stadium is also the home to Gunma Diamond Pegasus of Independent Baseball Challenge League.







2 riceballs
---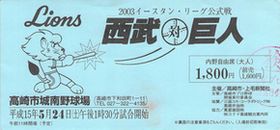 ---
---
All Photos Copyright (C) 1998-2020 Takeshi Kubota. All rights reserved.