(Sunmarine Stadium Miyazaki)
---
| | |
| --- | --- |
| Stadium Name | Miazaki-ken Sogo Undo Koen Koshiki Yakyujo (Sunmarine Stadium Miyazaki) |
| Location | 1443-12, Ooaza-Kumano, Miyazaki-shi, Miyazaki |
| Opened | 2001 |
| Capacity | 30,000 |
| Dimensions | LF:328ft (100m), CF:400ft (122m), RF:328ft (100m) |
| Surface | Natural Grass |
| Name Changes | Sunmarine Stadium Miyazaki (2001-2014), KIRISHIMA Sunmarine Stadium Miyazaki (2014-) |
| | |
| Getting there | 10 minuites walk from JR Nichinan Line Kibana Station. |
---


Miyazaki Prefecture, situated in southeast of Kyushu Island, has maintained a good partnership with the Yomiuri Giants, having been training in Miyazaki since 1959. The new prefectural stadium was built in 2001 at a cost of around 10 billion JPY ($100 million or more), along with Konohana Dome, the third largest wooden domed stadium in Japan.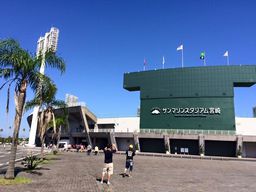 The new stadium was named "Sunmarine Stadium Miyazaki" by legendary ex-Giants player and manager Shigeo Nagashima. The ballpark has by far the best playing surface in Kyushu-Okinawa region with the beautiful natural turf both in infield and outfield.

However, it is considered that the Giants want out of Miyazaki, desiring to move their spring operation to Okinawa, whose climate is warmer and milder. Actually, the Yomiuri Giants train at Sunmarine Stadium for the first two weeks of February, but in the second half of the month they play spring training games at Okinawa Cellular Stadium, which was completely renovated in 2011.

The stadium often hosts some official NPB games, including 2006 All-star Game, Farm Championship Games. Phoenix Series, autumn training games by young prospects of NPB and KBO, are also played here in every November.









4 riceballs
---
---
All Photos Copyright (C) 1998-2016 Takeshi Kubota. All rights reserved.