(Shimada Stadium)
---
| | |
| --- | --- |
| Stadium Name | Shimada Kyujo |
| Location | 4-19-1 Yokoi, Shimada-shi, Shizuoka |
| Opened | 1980 |
| Capacity | 16,000 |
| Dimensions | LF:298ft (91m), CF:387ft (118m), RF:298ft (91m) |
| Surface | Infield:Dirt, Outfield:Grass |
| | |
| Getting there | 7 minuites walk from JR Shimada Station. |
---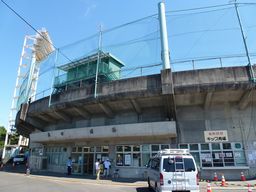 Shimada City is located in the middle of Shizuoka Prefecture. The city area is divided by Oi River originating from mountains of the Japanese Southern Alps and exiting into Suruga Bay. Shimada Baseball Stadium sits by the Oi Riverside.

In 1972 and 1973, Central League's Taiyo Whales, the predecessor of Yokohama BayStars, held their spring training at Shimada Stadium.

The stadium was first constructed in 1957. Later in 1980, completely rebuilt at the site of former stadium, equipping six massive lighting towers. Next to the ballpark, there is Shimada Baseball Stadium #2, a venue for rubber-ball baseball and softball.

Eastern League annually hosts just one official game here. The ballpark is usually used for high school baseball games.








3 riceballs
---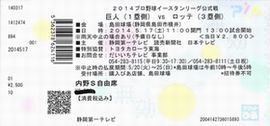 ---
---
All Photos Copyright (C) 1998-2020 Takeshi Kubota. All rights reserved.