(Sanjo Civic Stadium)
---
| | |
| --- | --- |
| Stadium Name | Sanjo Sogo Undo Koen Shimin Kyujo |
| Sponsored Name | Sanjo Kikai Stadium (2008-2013), Sanjo Pearl Kinzoku Stadium (2014-) |
| Location | 4-36-1 Tsukioka, Sanjo-shi, Niigata |
| Opened | 1995 |
| Capacity | 14,800 |
| Dimensions | LF:325ft (99m), CF:400ft (122m), RF:325ft (99m) |
| Surface | Infield:Dirt, Outfield:Grass |
| | |
| Getting there | Take a Sanjo Shinai Junkan Bus "Guruttosan Minami Route" from JR Tsubame-Sanjo or Higashi-Sanjo Station. You can take a shuttle bus at Higashi-Sanjo Station on a game day. |
---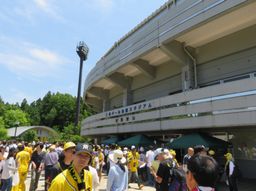 Sanjo City is in the middle of Niigata Prefecture, famous as a production of superior quality rice and Japanese sake. Therefore Sanjo Sports Park, including the baseball stadium is surrounded by huge rice fields.

But the major industry of Sanjo City is historically metalworking, so since 2008 the naming rights holders of this stadium have been the local metalworking and machinery companies based in the city, first Sanjo Machine Works, and then Pearl Metal Co.

The stadium is mainly used for High School Baseball, Collegiate Baseball Summer League and the other amateur baseball games.

Sanjo Stadium is the home of Niigata Albirex Baseball Club of Independent Baseball Challenge League. Eastern League and Western League of NPB also host some regular season games at this stadium.







2 riceballs
---

---
---
All Photos Copyright (C) 1998-2020 Takeshi Kubota. All rights reserved.