(Baseball Field at Saitobaru Sports Park)
---
| | |
| --- | --- |
| Stadium Name | Saitobaru Undo Koen Yakyujo |
| Location | Nishi, Aza-Uenomiya, Oaza-Miyake, Saito-shi, Miyazaki |
| Opened | 1977 |
| Capacity | N/A |
| Dimensions | LF312, CF394, RF312 |
| Surface | Infield:Dirt, Outfield:Grass |
| | |
| Getting there | 40 minuites to Saito Bus Center by Miyazaki Kotsu Bus from Miyako City Bus Center, take a taxi at Saito Bus Center. |
---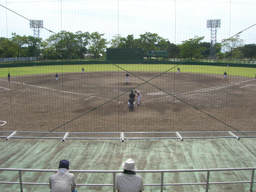 Saitobaru Baseball Field is located at Saitobaru Sports Park in Saito City. The city is known for Japan's biggest collection of burial mounds.

The Saitobaru Burial Mounds, a special historical site designed in 1952, are a large cluster of tumuli comprising 311 brial mounds and are estimated to have been built during the period between the 3rd and the 7th century.

Needless to say, the small hill at this baseball field is not one of those burial mounds, but just the pitcher's mound.

You should bring a cushion to sit behind the backstop, because there are only undressed concrete benches. No individual seats are installed at this stadium.

Saitobaru is also the spring training home of Tokyo Yakult Swallows of Eastern League and Tusan Bears of Korean Baseball League.






1 riceball
---
---
All Photos Copyright (C) 1998-2010 Takeshi Kubota. All rights reserved.