(Sagamihara Stadium)
---
| | |
| --- | --- |
| Stadium Name | Sagamihara-shiritsu Sagamihgara Kyujo |
| Sponsored Name | Thirty-Four Sagamihara Stadium (2011-) |
| Location | 3-1-6 Yaei, Chuo-ku, Sagamihara-shi, Kanagawa |
| Opened | September 30, 1986 |
| Capacity | 16,064 |
| Dimensions | LF:312ft (95m), CF:394ft (120m), RF:312ft (95m) |
| Surface | Infield:Dirt, Outfield:Grass |
| | |
| Getting there | Take a Kanachu Bus to "Fuchinobe Koen" from JR Yokohama Line Fuchinobe Station or Odakyu Line Sagami Ohno Station. |
---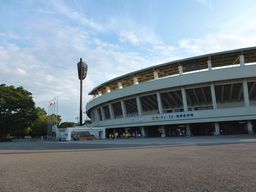 Sagamihara City is the second largest of area and the third of population in Kanagawa Prefecture, and one of the most popular residential neighborhoods of Tokyo.

The stadium was originally constructed as Kanagawa Prefecture's property. Later, City of Sagamihara took over the ownership in 2009. In 2011 the naming rights was sold to Sagamihara based real estate company Thirty-Four with 6.11 million JPY contract for five years.

Sagamihara Stadium is located at Fuchinobe Sports Park, and used to be the home to the Nippon-Ham Fighters of Eastern League from 1992 through 1996 until Fighters Stadium was opened in Chiba Prefecture.

Yokohama BayStars of Eastern League host a few regular season games at this stadium, where amateur baseball games, including Tokyo Metropolitan Area University Baseball League, Kanagawa University Baseball League, are usually played.







2 riceballs
---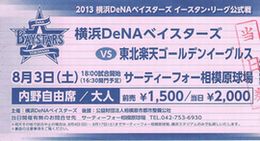 ---
---
All Photos Copyright (C) 1998-2020 Takeshi Kubota. All rights reserved.