(Ota Stadium)
---
| | |
| --- | --- |
| Stadium Name | Ota Stadium |
| Location | 1-2-10 Tokai, Ota-ku, Tokyo |
| Opened | 1995 |
| Capacity | 3,338 |
| Dimensions | LF:320ft (97.6m), CF:400ft (122m), RF:320ft (97.6m) |
| Surface | Artificial Turf |
| | |
| Getting there | 20 minuites to &quotOta Stadium&quot by Keikyu Bus from JR Omori Station. |
---


Ota Stadium was completed in 1990 by Ota City of Tokyo Metropolis, and stands in the large reclaimed area of Tokyo Bay, along with some seaside parks and warehouses.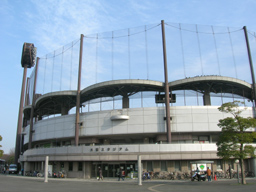 Located 2 miles north of Haneda Airport, you can see airplanes flying far beyond the outfield frequently during the game, just like Citi Field in NYC.

Although both the Yomiuri Giants and the Yakult Swallows are Tokyo franchises, it is disappointed that we don't have more comfortable ballpark than Ota Stadium in the Capital of Japan. Many fans complain that Big Egg is dome-covered and Jingu Stadium is outdated.

Ota Stadium doesn't have enough capacity for neither the Giants nor the Swallows, however it is nice to see Eastern League baseball at this stadium, where amateur baseball games are usually played.

Another advantage is delicious 'Onigiri', large-sized homemade riceballs served at the concession stand on game days.








3 riceballs
---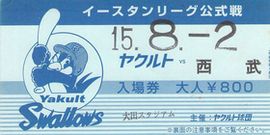 ---
---
All Photos Copyright (C) 1998-2020 Takeshi Kubota. All rights reserved.