(Saitama Municipal Omiya Stadium)
---
| | |
| --- | --- |
| Stadium Name | Saitama-shiei Omiya Kyujo |
| Location | 2-519 Juno-cho, Omiya-ku, Saitama-shi, Saitama |
| Opened | 1967 |
| Capacity | 10,000 |
| Dimensions | LF:298ft (91m), CF:400ft (122m), RF:298ft (91m) |
| Surface | Infield:Dirt, Outfield:Grass |
| Name Changes | Omiya-shiei Kyujo (1967-2001), Saitama-shiei Omiya Kyujo (2001- ) |
| | |
| Getting there | 15 minuite walk from Tobu Noda Railway Omiya Koen Station. |
---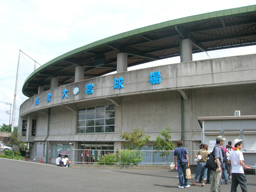 In 2001, Saitama City became the new capital of Saitama Prefecture, as a result of the merger of three cities, Urawa, Omiya and Yono. Then, Omiya Municipal Stadium was renamed to Saitama Municipal Omiya Stadium.

In Omiya Ward, there are two Omiya Baseball Stadiums, Prefectural Omiya Stadium and Municipal Omiya Stadium, both located within 10 minutes walking distance from each other.

This stadium is mainly used for Saitama High School Baseball Tournament and the other amateur games. Only a few official professional games usually take place a year for Eastern League.

The nearby train station is Omiya Koen (Omiya Park) of Tobu Railway Noda Line. But the ballpark is located in Owada Park, not in Omiya Park.






1 riceball
---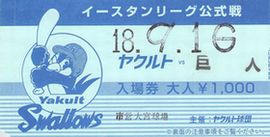 ---
---
All Photos Copyright (C) 1998-2020 Takeshi Kubota. All rights reserved.