(Baseball Field at Ogano General Sports Park)
---
| | |
| --- | --- |
| Stadium Name | Ogano-machi Sogo Undo Koen Yakyujo |
| Location | 334-1 Iida, Ogano-machi, Chichibu-gun, Saitama |
| Opened | 1997 |
| Capacity | N/A |
| Dimensions | LF:295ft (90m), CF:361ft (110m), RF:295ft (90m) |
| Surface | Infield:Dirt, Outfield:Grass |
| | |
| Getting there | 50 minuites by Seibu Kanko Bus from Seibu Chichibu Railway Station. |
---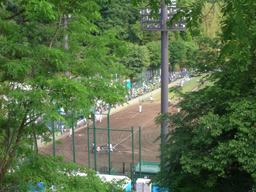 It was a beautiful Sunday afternoon in early June, 2009, when I made a 50 minutes bus trip from Chichibu Railway Station to attend the first Eastern League game in Chichibu, the Lions vs the Swallows.

When I arrived at Ogano Baseball Field, I found that all the infield tickets were already sold out, since they have only a few bench seats both at the first base and the third base side.

Although the facilities are so poor, the ballpark stands in a rich and peaceful natural environment, featuring a cool mountain stream beyond the outfield berm bleachers area.

Field dimensions, 90m to left / right and 110m to center, are relatively small for professional baseball. Actually, in the game I attended, the Lions and the Swallows combined to hit seven home runs, one of which was a splash hit into the stream.

Ogano-machi (Town of Ogano) is located in the center of Chichibu Basin, 70 km northwest of the Metropolis of Tokyo. The baseball field is usually used for amateur baseball games.







2 riceballs
---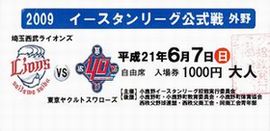 ---
---
All Photos Copyright (C) 1998-2020 Takeshi Kubota. All rights reserved.