(Odate Jukai Dome)
---
| | |
| --- | --- |
| Stadium Name | Odate Jukai Dome |
| Sponsored Name | Nipro Hachiko Dome (2017-) |
| Location | 1-1, Kamidaino Aza-Inaridai, Odate-shi, Akita |
| Opened | 1997 |
| Capacity | 5,040 |
| Dimensions | LF:295ft (90m), CF:394ft (122m), RF:295ft (90m) |
| Surface | Artificial Turf |
| | |
| Getting there | Take a Shuhoku Bus at JR Odate station, 2 minutes walk from "Jukai Dome Mae" busstop. |
---


When you stand in front of the shell-shaped dome, you may not be able to guess it is a wood structure. But, once you get into the dome, the scent of famous Akita cedar soon calms you down.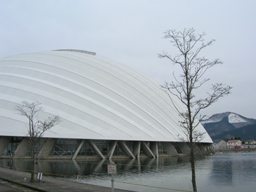 They used 25,000 of Akita ceder trees aged over 60 years for the roof construction and the grand stand. Odate Jukai Dome, spanning 583 feet, is one of the largest wooden domes in the world.

The tefron-coated membrane roof covers the dome, which allows enough sunlight to enter so that they can enjoy any daytime events without lighting.

All-weather facility was welcomed for snowy Odate City in Akita Prefecture. The dome is used for baseball, soccor, tennis, track and field, concerts, exbitions and other local events.

Sapporo Ambitious of Masters League, which is organized by retired professional baseball players and played during the off-season of NPB, regularly hosts one game in every December at Odate Jukai Dome.







2 riceballs
---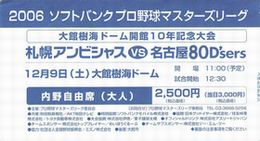 ---
---
All Photos Copyright (C) 1998-2019 Takeshi Kubota. All rights reserved.