(Medeshima Stadium at Natori Sports Park)
---
| | |
| --- | --- |
| Stadium Name | Tohoku Denryoku Natori Sports Park Medeshima Kyujo |
| Location | 1-6 Aza-Takizawa, Medeshimasiote, Natori-shi, Miyagi |
| Opened | 1998 (retired in 2012) |
| Capacity | 8,807 |
| Dimensions | LF:321ft (98m), CF:400ft (122m), RF:321ft (98m) |
| Surface | Infield:Dirt, Outfield:Grass |
| | |
| Getting there | Take a taxi at JR Natori Station. |
---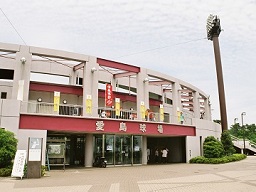 Natori Sports Park, usually abbreviated as "NaSPA", was established by Tohoku Electric Power Company in 1998. The sports complex was build on Takadate Hills, south of Sendai downtown, and provided an athletic field, a football field, tennis courts and a baseball stadium.

It was one of the most inconvenient ballparks, because public transportation was so poor. If you walk up to the park, it actually takes over one hour. However, once you stand in front of wine colored facade of Medeshima Baseball Stadium, you would feel very relaxing atmosphere with a lot of greenery.

On March 11, 2011, because of the Great East Japan Earthquake, NaSPA was severely damaged. Although some facilities were reopened a few month later, finally Tohoku EPCO gave up on trying to restore their venues and officially the whole facilities were closed in June, 2012.

Through the short history of Medeshima Stadium, it was mainly used for amateur baseball, Eastern League games were held some times.







2 riceballs
---