(Narita Municipal Daiei Baseball Stadium)
---
| | |
| --- | --- |
| Stadium Name | Narita-shi Daiei Yakyujo |
| Sponsored Name | NaSPA Stadium (2010-) |
| Location | 410-1, Hitotsubota, Narita-shi, Chiba |
| Opened | September 26, 2010 |
| Capacity | 1,500 |
| Dimensions | LF:328ft (100m), CF:400ft (122m), RF:328ft (100m) |
| Surface | Infield:Dirt, Outfield:Artificial Turf |
| | |
| Getting there | Take Chiba-Kotsu Bus Line 2 from Keisei Narita Station, 25 minutes walk from bus stop "Yoshioka Daijionji".;Take Narita City Community Bus "Tsubuura Route" from Keisei Narita Station, 5 minutes walk from bus stop "B&G Kaiyo Center Mae". |
---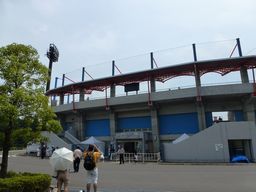 Narita Daiei Stadium, completed in 2014, is the municipal baseball stadium of Narita City, the site of Japan's air gateway "Narita Airport".

The biggest disadvantage of this stadium is terrible access. From Keisei-Narita Station of Keisei Railway, it takes over one hour by bus and on foot.

There have not been any chances for Daiei Stadium to host professional baseball game until Oyatsu Stadium, another municipal stadium in Narita was closed for five-year maintenance project of Kita-Chiba Road, 2014 to 2018. Eastern League game Marines vs Fighters took place in the summer of 2015 for the first time.

Narita-based construction company and real estate developer Hirayama Kensetsu purchased the naming rights with five-year contract. The stadium is now called "NaSPA Stadium".






1 riceball
---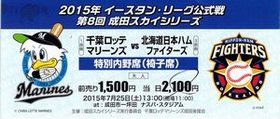 ---
---
All Photos Copyright (C) 1998-2020 Takeshi Kubota. All rights reserved.