(Baseball Stadium at Nakai Central Park)
---
| | |
| --- | --- |
| Stadium Name | Nakai Chuo-Koen Yakyujo |
| Location | 580 Hinakubo, Nakaimachi, Ashigarakami-gun, Kanagawa |
| Opened | 1998 |
| Capacity | 2,000 |
| Dimensions | LF:320ft (97.6m), CF:400ft (122m), RF:320ft (97.6m) |
| Surface | Infield:Dirt, Outfield:Grass |
| | |
| Getting there | Take a Kanachu Bus to "Hinakubo" from JR Tokaido Line Ninomiya Station or "Nakai Chugakko Mae" from Odakyu Line Hadano Station. |
---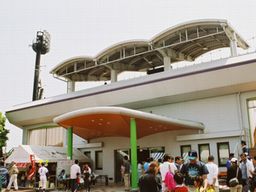 Nakai Central Park is located at the center of Nakaimachi, a small town of Kanagawa Prefecture with a population of less than 10,000.

Tomei Expressway, the backbone of road traffic linking Tokyo and Nagoya, provides easy access from Tokyo. Nakai Park is 5 minutes from Hadano-Nakai Interchange, almost 15 miles away from Tokyo Interchange of the Expressway.

At Nakai Central Park, there are a multi purpose plaza, a parkgolf course, a kids play ground and a baseball stadium. From the observation desk of the park, you can enjoy splendid view of Mt. Fuji on fine sunny days.

Eastern League used to host regular season games until middle of 2000's. The stadium is usually used for amateur baseball games.







2 riceballs
---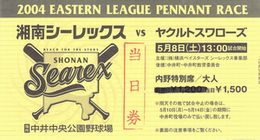 ---
---
All Photos Copyright (C) 1998-2020 Takeshi Kubota. All rights reserved.