(Nago Stadium)
---
| | |
| --- | --- |
| Stadium Name | Nago Kyujo |
| Location | 21st Century Forest Park, Miyazato 2-1, Nago-shi, Okinawa |
| Opened | 1977 |
| Capacity | 4,000 |
| Dimensions | LF:318ft (97m), CF:387ft (118m), RF:318ft (97m) |
| Surface | Infield:Dirt, Outfield:Grass |
| | |
| Getting there | 5 minuite walk from Nago Bus Terminal. |
---


From Okinawa's capital Naha, after 100 minutes express bus tour, you would arrive in Nago, the northern city of Okinawa Island. The city is famous for Orion Beer Factory, brewing Okinawa's local beer.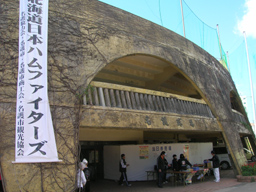 Walking several minutes from the bus station, there is Nago Municipal Stadium at 21 Seiki-no-Mori Koen (21st Century Forest Park).

Nago Stadium was opend in 1977 only for "Nanshiki Yakyu&quot, which is so popular in Japan, another form of basball game using a light rubber ball instead of a leather-coverd baseball.

In 1978, the City of Nago invited Nippon-Ham Fighters of Pacific League for their spring training. Then the Fighters became the first baseball club which established their spring training site in Okinawa.

Nowadays, Okinawa Prefecture, which consis of Japan's southernmost Ryukyu Islands, is major spring training camp site for NPB.

The exterior of this old small ballpark is slightly covered by ivy. Facilities of the stadium are so poor. However, outside the park, there is a bullpen with white domed roof and practice field coverd by beautiful natural grass.

Behind the outfield berm and scoreboard, there is a sandy beach of Nago Bay. So you can enjoy one of the nicest ocean view at Japan's ballpark.








3 riceballs
---
---
All Photos Copyright (C) 1998-2013 Takeshi Kubota. All rights reserved.