(Nagaragawa Stadium)
---
| | |
| --- | --- |
| Stadium Name | Nagaragawa Kyujo |
| Location | 2675-28 Nagarafukumitsu, Gifu-shi, Gifu |
| Opened | April 1, 1991 |
| Capacity | 22,030 |
| Dimensions | LF:320ft (97.6m), CF:403ft (122m), RF:320ft (97.6m) |
| Surface | Infield:Dirt, Outfield:Grass |
| | |
| Getting there | 20 minuites to "Gifu Memorial Center" by Gifu Bus from JR Gifu Station. You can take a shuttle bus at Gifu Station on a game day. |
---


Located at Gifu Memorial Center, Nagaragawa Stadium is the main baseball facility of Gifu Prefecture and stands at Nagaragawa Riverside.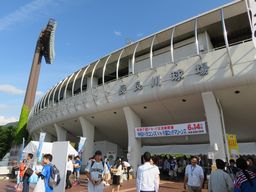 Gifu Memorial Center is Prefectural Sports Complex. Besides the baseball stadium, there are an athletic field, a gymnasium, a swimming pool, tennis courts and a sumo wrestling arena. It is 20 miles north from City of Nagoya, home to the Chunichi Dragons of Central League.

So, at Nagaragawa Kyujo, the Dragons host a few official games almost every season. Usually amateur baseball games take place at this stadium.

Beyond the third base side grand stand you can enjoy splendid view of 329 meters high Kinkazan Mountain. You can also see Gifu Castle, the landmark of the city, which is built on the top of Mt. Kinka.

Nagaragawa River is named one of "the Three Clear-Flowing Rivers in Japan" and famous for traditional cormorant fishing, Ukai. Go and see Ukai performance after the game!








3 riceballs
---
---
All Photos Copyright (C) 1998-2017 Takeshi Kubota. All rights reserved.