(Nagaoka Municipal Yukyuzan Stadium)
---
| | |
| --- | --- |
| Stadium Name | Nagaoka-shi Yukyuzan Yakyujo |
| Location | 400 Yukyu-cho, Nagaoka-shi, Niigata |
| Opened | 1967 |
| Capacity | 8,218 |
| Dimensions | LF:321ft (98m), CF:400ft (122m), RF:321ft (98m) |
| Surface | Infield:Dirt, Outfield:Grass |
| | |
| Getting there | Take a Echigo-Kotsu Bus from JR Nagaoka Station, 2 minuites walk from Bus Stop "Yukyuzan". |
---


On June 12, 1993, in the top of 8th inning of the game Kintetsu Buffaloes vs Orix BlueWave at Yokyuzan Stadium in Niigata Prefecture, BlueWave outfielder Ichiro Suzuki belted a homer off Buffaloes ace pitcher Hideo Nomo. It was Ichiro's first carrer home run.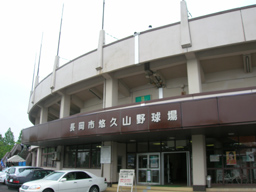 Two years later, Nomo flew to the West Coast to be the first Japanese player in Major League since Masanori Murakami pitched for the San Francisco Giants in 1964-1965, and as all of you know, Ichiro became Seattle Mariner in 2001 after winning seven consecutive batting titles in Japan.

Since 1970's some professional baseball games took place at Yukyuzan Stadium in regular season. Recent years Yomiuri Giants of Eastern League host a game in May or June as one of the annual Niigata two game series. The ballpark is usually used for high school baseball.

They have had several renovations over the years. Major change was to extend the field dimensions in 2001. The latest renovation was occured in 2005 because the stadium was damaged by terrible Niigata Prefecture Chuetsu Earthqake in 2004.







2 riceballs
---
---
All Photos Copyright (C) 1998-2020 Takeshi Kubota. All rights reserved.