(Heisei-no-Mori Shiokaze Stadium)
---
| | |
| --- | --- |
| Stadium Name | Heisei-no-Mori Shiokaze Kyujo |
| Location | 28-1 Aza-Masuzawa, Utazu, Minamisanriku-cho, Miyagi |
| Opened | 1991 |
| Capacity | 10,000 |
| Dimensions | LF:295ft (90m), CF:394ft (120m), RF:295ft (90m) |
| Surface | Infield:Dirt, Outfield:Grass |
| Name Changes | Heisei-no-Mori Kyujo (1991-2007), Heisei-no-Mori Shikaze Kyujo (2008- ) |
| | |
| Getting there | 20 minutes walk from JR Utazu Station, or take a taxi at the station. |
---


Minamisanriku-cho is a town on a beautiful and wild coastline in northeast of Miyagi Prefecture, formed by the merger of the towns of Shizugawa and Utazu in 2005. The ballpark, which was constructed by digging the top of hill in 1991, is located at Heisei-no-Mori in Utazu area. In 2008, the stadium was nicknamed Shiokaze Kyujo, "Sea Breeze Stadium" in Japanese.

On March 11, 2011, The Great East Japan Earthquake and Tsunami hit the town, and the small downtown was destroyed and several hundreds of residents were killed or still missing.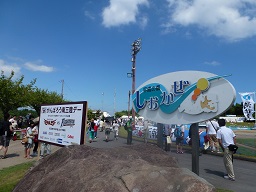 Heisei-no-Mori is a municipal park with some sports and lodging facilities. Soon after the disaster, the makeshift housing units for almost 200 families were built in the park.

Public Transportation System, including five train stations of JR Kesennuma Line, was also severely damaged. So, after two days of volunteer works in Kesennuma, in order to attend the 2012 Eastern League game at Minamisanriku held to support for recovery, I joined two hour bus tour from Sendai, the capital city of Miyagi.

Instead of JR Train system, BRT (Bus Rapid Transit) have started operations since December 2012.







2 riceballs
---

---
---
All Photos Copyright (C) 1998-2020 Takeshi Kubota. All rights reserved.