(Maruyama Stadium)
---
| | |
| --- | --- |
| Stadium Name | Sapporo-shi Maruyama Kyujo |
| Location | Miyagaoka 3, Chuo-ku, Sapporo-shi, Hokkaido |
| Opened | July, 1935 |
| Capacity | 25,000 |
| Dimensions | LF:321ft (98m), CF:384ft (117m), RF:321ft (98m) |
| Surface | Infield:Dirt, Outfield:Grass |
| | |
| Getting there | 15 minuites walk from Sogo Undo Koen Subway Station. |
---


Over-70-year-old Maruyama Stadium has a long history along with professional and amateur baseball in Hakkaido, the nothernmost island of Japan.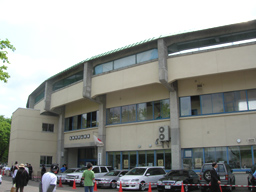 The first professional baseball club in Japan, Tokyo Giants played here in September, 1935. Tokyo Giants also faced New York Giants at Maruyama in 1953.

Yomiuri Giants used to have a few regular season games every July since 1940's. So, in Hokkaido, almost all beseball fans were rooting for the Giants until the Fighters moved to Sapporo in 2004.

Fighters vs Marines in July, 2000 was said to be the last professional game at Maruyama Stadium, because they were planning to build 43,000 capacity Sapporo Dome next year.

It was a beautiful Sunday afternoon of May, 2005. More than 20,000 crowds attended Fighters vs Swallows, the first NPB regular season game at this old ballpark since 2000. The game was held for 70th anniversary for Maruyama Stadium.

The stadium is located in Maruyama Park, suburb of Sapporo City, and surrounded by a lot of greenery. There is no lighting tower here, so all games are played as daygames.








3 riceballs
---
---
All Photos Copyright (C) 1998-2020 Takeshi Kubota. All rights reserved.