(Shizuoka Kusanagi Stadium)
---
| | |
| --- | --- |
| Stadium Name | Shizuoka Kusanagi Kyujo |
| Location | Kurihara 19-1, Suruga-ku, Shizuoka-shi, Shizuoka |
| Opened | July, 1930 |
| Capacity | 30,000 |
| Dimensions | LF:298ft (91m), CF:377ft (115m), RF:298ft (91m) |
| Surface | Infield:Dirt, Outfield:Grass |
| | |
| Getting there | 4 minuites walk from Shizuoka Shimizu Line Ken-Sogo-Undojo Station. |
---


In 1934 visit to Japan, the MLB All-stars swept 16-game-series versus Japanese baseball team consisting of Japan's best university and high school players.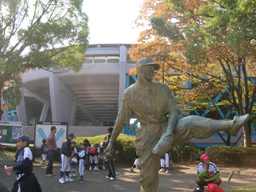 One of the highlights of the tour was the 10th game played at Shizuoka Kusanagi Stadium. Japan's starter, 17-year-old Eiji Sawamura struck out nine, including Babe Ruth, Jimmy Foxx and Lou Gehrig. He shutout the Americans for six innings, but at the bottom of the seventh, Gehrig smashed a 400-foot line drive into the right field bleachers, the only score of the day.

In the following year, Sawamura joined the first professional baseball club in Japan, Tokyo Baseball Club. He was nicknamed 'School Boy' during the 1935 US tour with the club, and said to be offered a Major League contract, but finally declined.

After Sawamura played for Tokyo Giants from 1936 to 1943, and pitched three no-hitters, he was enlisted in the Japanese Imperial Army and killed in the war in 1944. The Sawamura Award, Japan's equivalent to MLB's Cy Young, is named in his honor.

In front of Kusanagi Stadium, you can see a legendary Japanese pitcher standing face to face against a mighty Yankee, the bronze statues of Sawamura and Ruth.

The stadium usually hosts amateur baseball games and often holds some official NPB games. Annual Pacific League All-star Game, East PL vs West PL, used to be played here in every November, from 1988 to 2006.








3 riceballs
---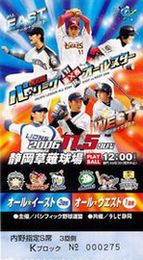 ---
---
All Photos Copyright (C) 1998-2020 Takeshi Kubota. All rights reserved.