(Flower Stadium)
---
| | |
| --- | --- |
| Stadium Name | Kamiya Sogo-Koen Yakyujo, AKA Flower Stadium |
| Location | 707 Kamiya, Konosu-shi, Saitama |
| Opened | 2004 |
| Capacity | 1,440 |
| Dimensions | LF:321ft (98m), CF:400ft (122m), RF:321ft (98m) |
| Surface | Infield:Dirt, Outfield:Grass |
| | |
| Getting there | Take a Asahi Bus to "Kamiya-Koen Iriguchi" from JR Takasaki Line Konosu Station, 5 minutes walk from Bus Stop. |
---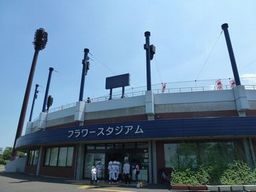 Konosu City is located at central eastern part of Saitama Prefecure, whithin one hour by JR train from downtown Tokyo.

Major industry of Konosu City is flowers and ornamental plants, so you can enjoy 35,000 multicolored tulips at Floral Oasis Tulip Festival in Hana no Oasis Park when you visit the city every April. Cosmos Festival is also popular, which is held at the riverbed of the Arakawa River every autumn.

Flower Stadium is constructed for 2004 National Sports Festival as a main facility of Kamiya Sports Park along with soccer field, tennis court, multipurpose ground and so on.

Musashi Heat Bears of Independent BC League host some regular season games since 2015. The stadium is usually used for amateur baseball games.







2 riceballs
---
---
All Photos Copyright (C) 1998-2020 Takeshi Kubota. All rights reserved.