(Komachi Stadium)
---
| | |
| --- | --- |
| Stadium Name | Akita-Kenritsu Yakyujo, AKA Komachi Stadium |
| Location | 4-6 Aza-Sanuki, Arayamachi, Akita-shi, Akita |
| Opened | March, 2003 |
| Capacity | 25,000 |
| Dimensions | LF:328ft (100m), CF:400ft (122m), RF:328ft (100m) |
| Surface | Infield:Dirt, Outfield:Grass |
| | |
| Getting there | 25 minuites to "Komachi Stadium Mae" by "Akita Chuo-Kotsu Bus" from JR Akita Station. |
---


While you are traveling around Akita area, located in northern region of Japan Main Island, you will find a lot of "Komachi" things, You taste Akita Komachi Rice, riding in Super Komachi bullet train on the way to see baseball game at Komachi Stadium.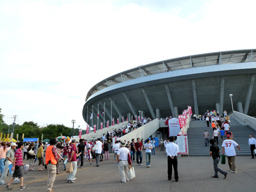 Akita-born Ono-no-Komachi was a 9th century female poet in Heian Era, and said to have been exceptionally beautiful. The legend might not be certain, but Komachi is today a synonym for feminine beauty in Japan, resulting in used as varied brand names on many-sorts-of Akita-related products.

Historically, Komachi Stadium is the third prefectural baseball stadium in Akita. The first stadium, "Tegata Kyujo", was opened in 1950, later sold to Akita University when the second prefectural stadium was established in 1974. "Tegata Kyujo" is still used for Akita University Baseball Club, while the second one was demolished in 2002.

The white roof covering the seats behind the home plate imitates a grain of Akita rice. The shape of four sets of lighting towers is inspired by paper lantern poles in famous Akita Kanto Festival, celebrated in hope for a good harvest.

Komachi Stadium is usually used for amateur baseball. A few regular season games of NPB are playd every season.








3 riceballs
---
---
All Photos Copyright (C) 1998-2020 Takeshi Kubota. All rights reserved.