(Kagoshima Prefectural Kamoike Baseball Stadium)
---
| | |
| --- | --- |
| Stadium Name | Kagoshima Kenritsu Kamoike Yakyujo |
| Location | 2-2-2 Yojiro, Kagoshima-shi, Kagoshima |
| Opened | December, 1970 |
| Capacity | 21,000 |
| Dimensions | LF:321ft (98m), CF:400ft (122m), RF:321ft (98m) |
| Surface | Infield:Dirt, Outfield:Grass |
| | |
| Getting there | Take a Kagoshima City Tram Line 1 from JR Kagoshima Station, 10 minutes walk from Tram Stop "Kamoike" or "Korimoto". |
---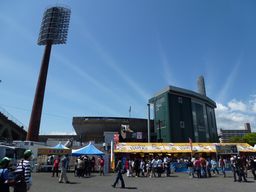 Built in 1970 as the main facility of Kamoike Sports Park, Kagoshima Prefectural Kamoike Stadium used to be the spring training home of Chiba Lotte Marines since 1972 until the Marines moved to Ishigaki-jima Island of Okinawa in 2007.

Since 2008, Lotte Giants of Korea Baseball League have trained here. The stadium is usually used for amateur baseball games and a few NPB official games are also played here almost every year.

Kamoike Sports Park is situated in the capital city of Kagoshima Prefecture, southernmost part of Kyushu Island.

On fine days at the first base grandstand of Kamoike Baseball Stadium, you can enjoy magnificent view of Sakurajima, literally "Cherry Blossom Island" in Japanese. Mt. Sakurajima is located at about 5 km distance from Kagoshima City and is now in the full activity of a volcanic eruption.








3 riceballs
---
---
All Photos Copyright (C) 1998-2016 Takeshi Kubota. All rights reserved.