(Kamiyugi Park Baseball Stadium)
---
| | |
| --- | --- |
| Stadium Name | Kamiyugi Koen Yakyujo |
| Location | 2-51-1 Kamiyugi, Hachioji-shi, Tokyo |
| Opened | October, 2000 |
| Capacity | 3,000 |
| Dimensions | LF:321ft (90m), CF:400ft (122m), RF:321ft (90m) |
| Surface | Infield:Dirt, Outfield:Grass |
| | |
| Getting there | Take a Keio Bus from JR Hachioji Station or Keio Sagamihara Line Minami-Osawa Station, 2 minuites walk from Bus Stop "Rikujo-Kyogijo-Mae". |
---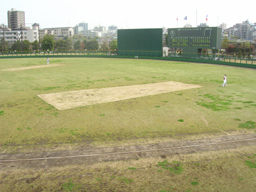 Hachioji Municipal Kamiyugi Park is located in Tama New Town, the largest residential development in Japan. From the baseball stadium, you can see apartment and condominium complex beyond the outfield and the scoreboard.

In 2008 season, Tokyo Swallows of Eastern League hosted several games here, the first professional baseball since some fall training games were played in 2001 and 2002.

When I visited the stadium in April, 2008, what disappointed me most was the shoddy work of maintaining grass field. It was terribly eyesore.

The stadium is mainly used for Tohto University Baseball League, Western Tokyo Tournament of High School Baseball and the other amateur baseball games.






1 riceball
---
---
All Photos Copyright (C) 1998-2020 Takeshi Kubota. All rights reserved.