(Kaga Municipal Central Park Stadium)
---
| | |
| --- | --- |
| Stadium Name | Kaga-shi Chuo-Koen Yakyujo |
| Location | Ri-245-2, Yamada-machi, Kaga-shi, Ishikawa |
| Opened | 1979 |
| Capacity | 6,530 |
| Dimensions | LF:321ft (98m), CF:400ft (122m), RF:321ft (98m) |
| Surface | Infield:Dirt, Outfield:Grass |
| | |
| Getting there | 40 minuites walk from JR Kaga Onsen Station, or take a taxi at JR Station. |
---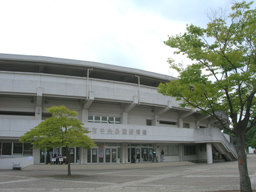 Kaga Central Park is located on the top of the hill, which is in 40 minutes walking distance from JR Kaga Onsen Station. You had better go there by taxi.

The ballpark is mainly used for Hokuriku University Baseball League and other amateur baseball games. The Ishikawa Million Stars of independent Baseball Challenge League host a few games a year at this stadium.

Although the facilities have no specific feature, the surroundings with a lot of greenery is a huge advantage of the ballpark.

It is a good idea to visit Onsen, Japanese hot spring after the game, since JR Kaga Onsen Station is the gateway to four spas, Yamashiro, Yamanaka, Katayamazu and Awazu. Kaga Hot Spring District is one of the oldest Spa Resort area in Japan.

Kaga Hot Spring District is near enough to Kanazawa, the capital city of Ishikawa Prefecture, for a day trip. It takes about only 20 minutes from Kanazawa by JR Super Express train, and also within an hour from Komatsu Airport.







2 riceballs
---
---
All Photos Copyright (C) 1998-2020 Takeshi Kubota. All rights reserved.