(Iwaki Green Stadium)
---
| | |
| --- | --- |
| Stadium Name | Iwaki Green Stadium |
| Location | 110-30, Kamiasagai, Joban-Yumoto Machi, Iwaki-shi, Fukushima |
| Opened | April, 1995 |
| Capacity | 30,000 |
| Dimensions | LF:328ft (100m), CF:400ft (122m), RF:328ft (100m) |
| Surface | Infield:Dirt, Outfield:Grass |
| | |
| Getting there | 30 minuites walk from JR Joban Line Yumoto Station. You can take a shuttle bus at Yumoto Station on a game day. |
---


Iwaki Green Stadium is situated at the center of 21 Seiki-no-mori Koen (21st Century Forest Park) in Iwaki City, the area and the population of which is the largest in Fukushima Prefecture.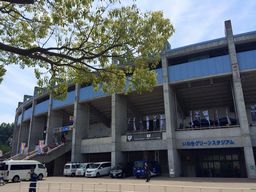 Being Surrounded by a lot of nature, Iwaki Green Stadium is one of the most beautiful ballparks in Tohoku District of Japan Main Island, with the eye-catching ballpark sign in grass berm behind left field.

The exterior of the stadium is painted pale blue, which is said to be modeled after Chiba Marine Stadium. Still should it be called Green Stadium?

Every year NPB hosts a few regular season games at Iwaki Green Stadium. NPB All-star game was played here in 2013. Fukushima Hopes of Independent BC League have been playing their home games since 2015, their inaugural season.

Iwaki City is located in southern part of Fukushima Prefecture and just down the coast from the Fukushima No.1 nuclear power plant, which received huge damage by earthquake and tsunami on March 11, 2011.








3 riceballs
---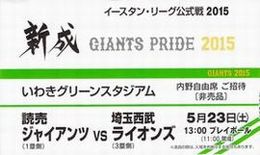 ---
---
All Photos Copyright (C) 1998-2020 Takeshi Kubota. All rights reserved.