(Miyazaki Ikime-no-Mori Ivy Stadium)
---
| | |
| --- | --- |
| Stadium Name | Miyazaki-shi Ikime-no-Mori Undo-Koen Yakyujo |
| Location | 4464-1, Oaza-Atoe, Miyazaki-shi, Miyazaki |
| Opened | 2002 |
| Capacity | 11,000 |
| Dimensions | LF328, CF400, RF328 |
| Surface | Infield:Dirt, Outfield:Grass |
| | |
| Getting there | 40 minuites to Arita by Miyazaki Kotsu Bus from Miyako City Bus Center, 20 minutes walk from Arita Bus Stop. You can also take a special bus directly to the park during spring training. |
---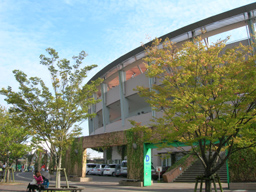 Ikime no Mori Sports Park consists of main baseball stadium, sub stadium, indoor training ground and some atheletic fields. Since Fukuoka Softbank Hawks moved their off-season training base to Ikime no Mori in 2003, more than 250,000 of crowds visit this park every spring.

Main baseball stadium is nicknamed "Ivy Stadium", expected to be a beautiful ivy-covered stadium, like Hanshin Koshien Stadium or Wrigley Field.

However, when I visited this stadium in 2009, I found that only the main gate was slightly covered with ivy, but nothing on the wall.

In October Ivy Stadium and sub baseball stadium also host Phoenix League games, fall baseball league played by young prospects of NPB and KBO.








3 riceballs
---
---
All Photos Copyright (C) 1998-2010 Takeshi Kubota. All rights reserved.