(Ishinomaki Civic Stadium)
---
| | |
| --- | --- |
| Stadium Name | Ishinomaki Shimin Kyujo |
| Location | 18 Aza-Shinkotsutsumi, Minamizakai, Ishinomaki-shi, Miyagi |
| Opened | 2001 |
| Capacity | 10,000 |
| Dimensions | LF:328ft (100m), CF:400ft (122m), RF:328ft (100m) |
| Surface | Artificial Turf |
| | |
| Getting there | 15 minuites to "Sogo Undo Koen" by Miyakou Bus Ishinomaki Senshu Daigaku Line from JR Ishinomaki Station |
---


Ishinomaki City, the second largest city of Miyagi Prefecture, was severely damaged by the Great East Japan Earthquake and Tsunami on March 11, 2011, in which over 3,500 Ishinomaki residents were killed and several hundreds are still missing.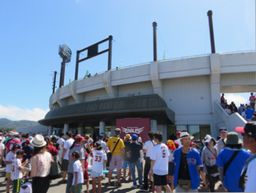 Soon after the disaster, the municipal stadium was turned into the recovery operation base of the Self Defence Force. In 2012, after the SDF withdrawal, thanks to TOMODACHI project, donation of approximately $1 million from MLB, MLBPA and the other so many friends in USA, the ballpark was restored. Finally, baseball is back in town in 2013. That's why the official MLB logos are printed on the new artificial turf field.

The ballpark is main facility of Ishinomaki General Sports Park. Ishinomaki Stadium is usually used for amateur baseball, such as high school baseball, industrial baseball, etc. Eastern League of NPB also host an annual official game at this stadium.

There are various food stalls around the stadium on the game day. Especially you can enjoy one of the most popular festival dishes, Ishinomaki Yakisoba, stir-fried wheat flour noodles with pork, vegetables and topped with sunny-side up egg.







2 riceballs
---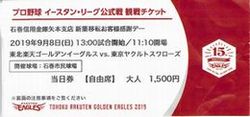 ---
---
All Photos Copyright (C) 1998-2020 Takeshi Kubota. All rights reserved.