(Ise Municipal Stadium at Kuratayama Park)
---
| | |
| --- | --- |
| Stadium Name | Ise-shi Kuratayama Koen Yakyujo |
| Sponsored Name | Dime Stadium Ise (2017-) |
| Location | 159-1 Kusube-cho, Ise-shi, Mie-ken |
| Opened | 1963, comletely renovated in 2014 |
| Capacity | 10,122 |
| Dimensions | LF:320ft (97.5m), CF:400ft (122m), RF:320ft (97.5m) |
| Surface | Artificial Turf |
| | |
| Getting there | Take a Mie-Kotsu Bus from JR/Kintetsu Ise-shi Station or Ujiyamada Station, 5 minuites walk from Bus Stop. |
---


Ise is a city located on the eastern tip of Kii Peninsula in Mie Prefecture of central Japan. Kuratayama Park Stadium is build and owned by Ise City, and usually used for amateur baseball.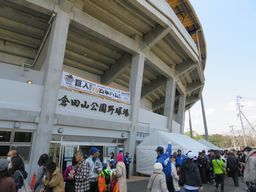 At this stadium, only regular season game of NPB was held in 1972, Kintetsu Buffaloes beat Nankai Hawks with the score of 4-1.

After 10 million dollars renovation was completed in 2014, two bronze busts are set beside the entrance gate. One is Eiji Sawamura (1917-1944) and the other is Yukio Nishimura (1910-1945), both are Ise-born star players in the early days of Japan Professional Baseball and were killed in the Pacific War.

On March 22, 2017, I have attended the spring training game, Giants vs Fighters, which was held for the 100th anniversary of Sawamura's birth.

Eiji Sawamura pitched a no-hitter in 1936, the first no-no in Japan Professional Baseball history and was awarded the very first MVP in 1937. Sawamura Award, Japan's equivalent to MLB's Cy Young Award, is named in his honor.







2 riceballs
---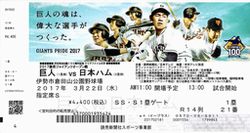 ---
---
All Photos Copyright (C) 1998-2020 Takeshi Kubota. All rights reserved.