(Ichihara Seaside Ballpark)
---
| | |
| --- | --- |
| Stadium Name | Ichihara Rinkai Kyujo |
| Sponsored Name | ZA Ballpark (2012-) |
| Location | 536 Iwasaki, Ichihara-shi, Chiba |
| Opened | April 9, 1994 |
| Capacity | 9,800 |
| Dimensions | LF:321ft (98m), CF:400ft (122m), RF:321ft (98m) |
| Surface | Artificial Turf |
| | |
| Getting there | 30 minutes walk from JR Uchibo Line Goi Station, 10 minuites walk from Kominato Bus Stop "Fukiage-dori Kado" |
---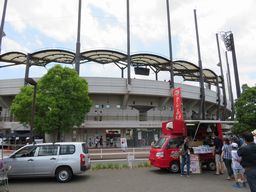 Ichihara City is located at the west side of the Boso Peninsula in Chiba Prefecture, and one of the largest industrial cities in Japan. The northern bayside area of the city forms a part of Keiyo Industrial Zone, which contains the largest number of oil refineries in Japan. Ichihara Seaside Ballpark is set beside the industrial complex overlooking Tokyo Bay.

In 1999 the stadium was completely renovated, including installing artificial turf. ZA, the Ichihara-based secondhand golf and fishing equipment company, purchased the naming rights of the ballpark, together with Seaside Athletic Field and Soccer Ground at Ichihara Green Sports Park.

The ballpark is mainly used for amateur baseball games, such as Industrial Baseball League, Chiba Prefectural University Baseball League, high school baseball tournament. The Chiba Lotte Marines of Eastern League host an official game almost once a year.







2 riceballs
---
---
---
All Photos Copyright (C) 1998-2019 Takeshi Kubota. All rights reserved.