(Civic Stadium at Honjo General Park)
---
| | |
| --- | --- |
| Stadium Name | Honjo Sogo Koen Shimin Kyujo |
| Sponsored Name | KI Stadium (2018-) |
| Location | Honjo Sogo Koen, 433 Kitabori, Honjo-shi, Saitama |
| Opened | 1994 |
| Capacity | 10,000 |
| Dimensions | LF:312ft (95m), CF:394ft (120m), RF:312ft (95m) |
| Surface | Infield:Dirt, Outfield:Grass |
| | |
| Getting there | 30 minuites walk each from JR Takasaki Line Honjo Station or JR Shinkansen (Bullet Train) Joetsu Line Honjo-Waseda Station, or take a taxi at JR station. |
---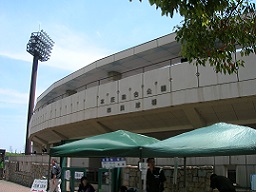 45 miles from central Tokyo, the City of Honjo is the northern city of Saitama Prefecture.

Besides the baseball stadium, there are a gymnasium called "Silkdome", tennis courts, multi purpose grounds, BBQ sites and a lot of playground equipments at Honjo General Park. So every weekend, the park is always bustling with families.

However, when you look up at the sky, there will be a curious sight, the 500 kv power lines over the park. From the infield of the stadium, those power lines from the left to the right spoil the outfield view with perfect blue sky.

The stadium is usually used for High School Baseball and the other amateur baseball games. Eastern League host an official game in early summer as a part of annual Honjo-Takasaki two game series. This stadium is also the home to Gunma Diamond Pegasus of Independent Baseball Challenge League.






1 riceball
---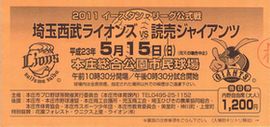 ---
---
All Photos Copyright (C) 1998-2020 Takeshi Kubota. All rights reserved.