(Hiratsuka Stadium)
---
| | |
| --- | --- |
| Stadium Name | Hiratsuka Kyujo |
| Location | 1-1, Oohara, Hiratsuka-shi, Kanagawa |
| Opened | 1985 |
| Capacity | 16,000 |
| Dimensions | LF298, CF394, RF298 |
| Surface | Infield:Dirt, Outfield:Grass |
| | |
| Getting there | 10 minuites to &quotHiratsuka Kyujo&quot by Kanachu Bus from JR Hiratsuka Station Kita-Guchi (North Gate). |
---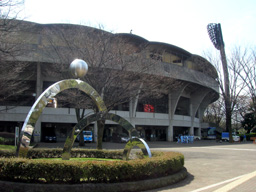 Hiratsuka City is located in the center of Kanagawa Prefecture, approximately 37 miles south-west of Tokyo.

Tanabata, the Star Festival, takes place across Japan on July 7th. On that day, according to Chinese legend, the Altair and the Vega, lovers separated by the Milky Way, are allowed to meet just once a year.

The Shonan-Hiratsuka Tanabata Festival, the biggest Star Festivel in Kanto Region, is so famous for featuring gorgeous bamboo decorations, along with Sendai Tanabata Festival.

Yokohama BayStars host a few regular season games in early summer as Tanabata Festival Series at Hiratsuka Stadium. BayStars of Eastern League also hold some regular season games here.







2 riceballs
---
---
All Photos Copyright (C) 1998-2012 Takeshi Kubota. All rights reserved.