(Hanno Civic Stadium)
---
| | |
| --- | --- |
| Stadium Name | Hanno Shimin Kyujo |
| Location | Azu Undo Koen, 812-3 Azu, Hanno-shi, Saitama |
| Opened | 1993 |
| Capacity | 1,500 |
| Dimensions | LF:302ft (92m), CF:394ft (120m), RF:302ft (92m) |
| Surface | Infield:Dirt, Outfield:Grass |
| | |
| Getting there | 15 minuites walk from Seibu Ikebukuro Railway Motokaji Station. |
---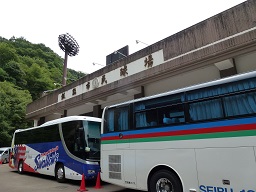 Hanno Civic Stadium is located at Azu Sports Park in City of Hanno, Saitama Prefecture, more than 20 miles west from central Tokyo. In rich green city Hanno, there are various camping sites especially along Iruma River.

There is also Akebono Kodomo-no-Mori Koen (Akebono Children's Forest Park), AKA Moominvalley Park, beyond the left-center field of the stadium.

The Moomins, hippo-like characters created by Finnish author Tove Janson, is well-loved in Finland and the other European countries. An animated series is highly popular in Japan. Moominvalley is a calm and beautiful place where the Moomins live in the tales. In the park, an atmosphere of Moominvalley is well revived.

The stadium is usually used for High School Baseball and the other amateur baseball games. A few official Eastern League games are hosted per year.







2 riceballs
---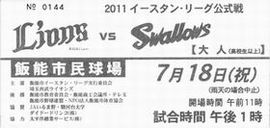 ---
---
All Photos Copyright (C) 1998-2020 Takeshi Kubota. All rights reserved.