(Prefectural Fujisakidai Baseball Stadium)
---
| | |
| --- | --- |
| Stadium Name | Fujisakidai Ken'ei Yakyujo |
| Location | 4-1, Miyauchi, Chuo-ku, Kukamoto-shi, Kumamoto |
| Opened | 1960 |
| Capacity | 24,000 |
| Dimensions | LF:325ft (99.1m), CF:400ft (121.9m), RF:325ft (99.1m) |
| Surface | Infield:Dirt, Outfield:Grass |
| | |
| Getting there | 10 minuites walk from the City Tram Stop "Urusan-machi" |
---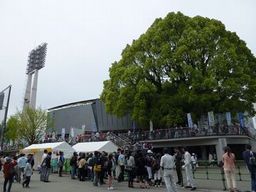 Located at Kumamoto Castle Park, Fujisakidai Baseball Stadium is within walking distance of Kumamoto-jo, a major landmark in western Kyushu, which is one of three premier samurai-era castles in Japan.

The distinctive feature of the ballpark is Fujisakidai Camphor Trees behind the batter's-eye. Those seven trees, which are 400 to 1,000 years old and over 20 meters high, are the government-designated Natural Treasures.

The trees are pushing out on the field, so the stadium set an individual ground rule that a batted ball being lodged in their trunks or branches is ruled a home run.

The ballpark is mainly used for high school baseball tournament and other amateur baseball games. NPB host regular season games almost every season. Since Kyushu Shinkansen Express was completed in 2011, the Fukuoka SoftBank Hawks host an official game as one of annual two games series, called Kumamoto-Kagoshima Bullet Train Series.








3 riceballs
---
---
All Photos Copyright (C) 1998-2016 Takeshi Kubota. All rights reserved.