(Fuchu Civic Stadium)
---
| | |
| --- | --- |
| Stadium Name | Fuchu Shimin Kyujo |
| Location | 2-19, Kotobuki-cho, Fuchu-shi, Tokyo |
| Opened | 1982 |
| Capacity | 5,000 |
| Dimensions | LF:312ft (95m), CF:394ft (120m), RF:312ft (95m) |
| Surface | Infield:Dirt, Outfield:Grass |
| | |
| Getting there | 5 minutes walk from JR Musashino Line Kita-Fuchu Station. |
---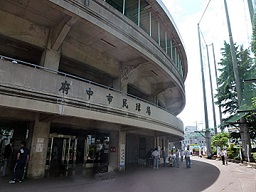 City of Fuchu is geographically located at the heart of Tokyo. So, from ancient times, Fuchu has prospered as the center of politics, economy, and culture. Nowadays Fuchu became one of the most popular town in Tokyo with convenient public facilities and services.

Fuchu is also well known for sports gambling, such as horse racing and boat racing. Tokyo Racecource, one of the major horse racing places in Japan, is famous for the world's largest TV screen "Turf Vision". On the opposite side of Chuo Exressway, there is a speedboat racecource, Boatrace Tamagawa.

Fuchu Baseball Stadium, just one mile distance from Tokyo Racecource, is almost only used for amateur baseball. On May 19, 2013, in order to promote National Sports Festival 2013, a regular season game of Eastern League Baseball was held at this stadium, the first professional baseball game in almost 30 years.






1 riceball
---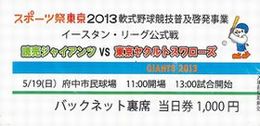 ---
---
All Photos Copyright (C) 1998-2020 Takeshi Kubota. All rights reserved.