(Shizuoka Ashitaka Stadium)
---
| | |
| --- | --- |
| Stadium Name | Shizuoka-ken Ashitaka Kyujo (Ashitaka Koiki Koen Yakyujo) |
| Location | 202, Ashitaka, Numazu-shi, Shizuoka |
| Opened | 1989 |
| Capacity | 13,300 |
| Dimensions | LF:321ft (98m), CF:400ft (98m), RF:321ft (98m) |
| Surface | Infield:Dirt, Outfield:Grass |
| | |
| Getting there | 20 minuites to &quotAshitaka Koiki Koen&quot by Fujikyu City Bus from JR Numazu Station (operate only weekend), or take a taxi at JR Station. |
---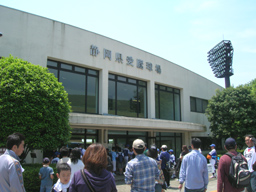 In order to build a baseball stadium at Ashitaka Regional Park, Shizuoka Prefectural Government excavated the foothills of Ashitaka Mountain, which is located in northern part of Numazu City.

This method of construction is same as the way for Seibu Lions Stadium, built by digging in Sayama Hillock, Saitama in 1979. Lions Stadium was later dome-covered to be Seibu Dome.

At Ashitaka Stadium, without a roof, you can enjoy the surroundings full of greenery and the view of Numazu City and Suruga Bay on clear sunny days.

High School Baseball Tournament is one of the major events at Ashitaka Stadium. Shonan Searex of Eastern League occasionally host a regular season game here.








3 riceballs
---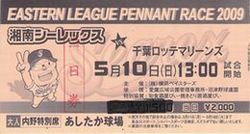 ---
---
All Photos Copyright (C) 1998-2020 Takeshi Kubota. All rights reserved.